Two new Manga series by Master Takehiko Inoue released in America!
Reported by PK Eiselt - 06:13 AM on September 28, 2008
SLAM DUNK & REAL Come to America!

In 2006 "Slam Dunk" was voted the TOP MANGA SERIES of all time by over 80 thousand fans attending the 10th annual Japan Media Arts Festival. Takehiko Inoue's series about a high school Basketball team, has sold over 100 million copies in Japan, and spawned 4 movies and an animation series with over 100 episodes. And now Viz media brings the series to the United States along with Inoue's follow up series, "Real".

Inoue has been a basketball fan since he was in high school. However he realized that in Japan, there is no future for Basketball players after graduation. As he went on to major in art.

In 1990 he struck gold with his weekly serial depicting Hanamichi Sakuragi, a troublemaker who starts playing basket ball to impress a girl. Through the course of 31 volumes and 6 years, Hanamichi not only learns how to play the game, but also how to control his anger, and eventually become a man. Although the team starts out as a ragtag group of misfits, they soon gain publicity and eventually the team becomes an all-star contender in Japan.

Viz Media is reprinting Inoue's complete series in America for the first time. While in Japan, and even Europe, manga or comics about sports are fairly common, but its not such and easy sell in America, but Inoue is not fazed.




"The United States is a country that loves sports. With Slam Dunk, I'm trying to convey the feelings that people have when they're playing sports, when they love sports. These feelings are universal, so I'm not too worried about people responding to my work when I think of it that way."
Inoue has spent some time in America and even set up a Basket Ball scholarship for Japanese students who want to try out for the NBA in America.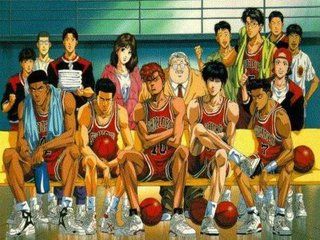 "After Slam Dank was finished…I wanted to express my appreciation to basketball. When I saw NBA games and the American basketball culture, I thought to myself: successful basketball players are also participating in many social activities, can I do something for basketball? …Two years later I finally ended up creating the 'Slam Dunk Scholarship'."




After taking a break from Basket Ball Manga Inoue returned to the genre with a bang. With "Real" the artist is taking a decidedly darker and more mature take on the genre
By focusing on the sport of "Wheel chair Basketball".

"Real" also deals with the reality of physical disabilities, and the psychological inferiority that the characters struggle against. While basketball is a large part of Real, a larger emphasis is placed on character development-- Inoue is just as interested in exploring the past of the characters, their inner world, and their attempts to achieve something in life as he is in looking at the sport of basketball.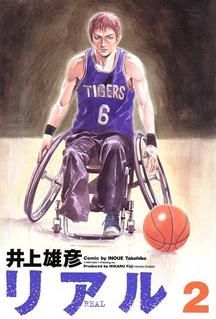 "I wrote "Slam Dunk" when I was in my twenties. I had a simpler perspective on life when I was younger. At that time, my goals were more about winning and success. Now that I'm older, I know there's more to life than that."
"I'm very excited about my manga being published in the United States. I consider the act of creating manga to be a kind of solitary experience, but when the reader reads it, I feel like I'm having one-on-one contact with them. That's very rewarding for me, and it makes it all worthwhile."
Volume 1 of each series are now available from VIZ Media and wherever quality comics are sold.

MORE Manga NEWS & UPDATES